Sue Darling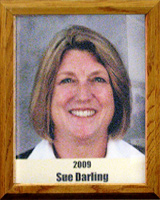 Inducted Class of 2009
Sue has excelled as a basketball coach for nearly three decades, coaching on four levels – high school, junior college, college and professional. Currently an assistant women's basketball coach at the University of Arizona, Sue graduated from Canyon Del Oro High School in 1978 and coached her first team in 1980 in the BCI tournaments.
She has coached at Cholla High School, Pima College, Salpointe Catholic High School, St. John's University, Amphitheater High School, Arizona State University, the Air Force Academy, Northwestern University, J.K. Mullen High School, the University of Arizona and with the Seattle Reign of the American Basketball League.
As a student at CDO, Sue was the school's first Female Athlete of the Year as a senior, and was named to the all-conference team as a captain. Sue's Salpointe team in 1986 had a 17-8 record in only its third season, and she was named Arizona Daily Star All-Metro Division I Coach of the Year.
Sue also has volunteered her time for the Special Olympics and numerous basketball camps.