Thelma Tee Taylor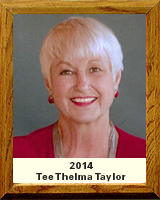 Inducted Class of 2014
Tee Thelma Taylor was born and raised in Tucson, graduated from Catalina High School in 1957 and then attended the University of Arizona. She began jumping in Tucson in 1961 and continued when she moved to Dallas later in the year to be a stewardess.
Skydiving was then almost an exclusively male sport, however Taylor established a training program for the Dallas Skydivers and became instructor, jumpmaster and safety officer. She was the 9th woman to earn the U.S. Expert License (D-462).
Advancements came through trial and error and like others in the sport Taylor cut and sewed surplus military canopies modifying them for sport use, and dyed them pink in the bathtub to add pizazz. By consistently winning in state and regional competitions, she qualified for the national meet in 1963 and won the style event (a set of freefall maneuvers judged on headings and time) and a spot on the international team that competed in Germany in 1964. There she won the style event setting a world record, and also placed second in the accuracy event. This established her as overall individual Women's World Champion.
In 1994, Taylor accompanied the U.S. competition team to China as Team Leader and member of the Competition Jury. She was part of the team that tested the first sport-designed canopy and back-mounted reserve, and also made test jumps when the Tandem Parachute System was being developed.
Taylor has remained an active member of the Skydiving community and the group known as Pioneers of the Sport and still jumps occasionally. She was inducted into the National Skydiving Hall of Fame in 2011.