Tom Ansberry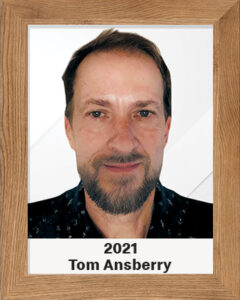 At 13, Tom Ansberry ran a marathon in 2 hours, 43 minutes. Those who keep age-group records for distance running searched and searched and could not find anyone under the age of 14 who had run 26 miles that fast.
What they did discover was that Ansberry, the son of a former Vietnam war transport pilot, had set an American age-group record for the mile, running that distance in 5:03 when he was 11.
That was 1976. To this day, Ansberry remains the most productive and attention-getting young male runner in Tucson history.
As an eighth grader at Secrist Middle School, Ansberry began to run 75 miles a week, accelerating a training regimen he began when he was in the fourth grade. The payoff wasn't long behind.
As a sophomore at Santa Rita High School, Ansberry finished second in the state cross country championships, leading the Eagles to the state championship. That was just the tip of Ansberry's impressive running career.
He won the 1979 and 1980 state cross country championships, leading Santa Rita to two more state titles. He became the first freshman in Tucson history to make the Tucson Citizen's All-City cross country team.
As a senior at Santa Rita, Ansberry was undefeated, winning all 10 cross country meets
he entered.
"In all my years of coaching, Tom Ansberry was the best runner we ever faced,'' said long-time Sahuaro High coach Jeff Lockwood, a 2015 inductee into the Pima County Sports Hall of Fame, whose team won the 1984 state championship and finished second to Santa Rita in 1979. "Even as a freshman, we couldn't beat Tom.''
Ansberry went on to win the USA national junior championship in 10,000 meters in June, 1982, in Bloomington, Indiana.
Once Ansberry accepted a scholarship to the University of Arizona, he got even better, if that's possible.
He led the Wildcats to the 1984 Pac-10 cross country championship, which was the school's second Pac-10 championship ever, following a 1980 baseball title. Ansberry won the '84 individual Pac-10 title, the first of 11 individual cross country championships to be won by Wildcats who followed him.
He was chosen the Pac-10 cross country athlete of the year, adding to honors that included being a four-time All-American, two in cross country and two at 10,000 meters. Ansberry set the UA 10,000 meter record, 28:14.80, as a Wildcat senior.
Running didn't consume Ansberry. He earned a UA degree in Irrigation Engineering and then moved to Minnesota to work at the University of Minnesota's Agricultural Center. He continued to train for the 1988, 1992 and 1996 USA Olympic Trials, one of the first to be hired by the United States Olympic Committee, who created a program at which elite-level Olympic hopefuls worked in a USOC-funded program for Home Depot.
Ansberry's Olympic dreams didn't materialize, but he came oh-so-close, finishing fifth in the 1992 Barcelona Olympic Trials in the 10,000 meters. A year before he just missed making the 1996 Atlanta Olympics team, Ansberry finished third in the 1995 USA championships.
"I run a little for exercise, all depending if I am injured that week,'' Ansberry says now, in a self-deprecating manner.
He is a software engineer and the IT director at Trellis, a software company in Oregon City, Oregon, owned by his wife, Julia.
— Greg Hansen