Tony Morales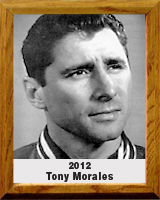 Inducted Class of 2012
Tony Morales graduated from Douglas High School in 1943 and lettered all four hears in football, basketball and baseball, plus two years in track.
After serving in the U.S. Navy in World War II, Morales attended the University of Arizona where he played both baseball and basketball. In 1950 he was an All-American baseball selection, the first Hispanic-American to be so honored.
Morales' coaching career started under B.C. "Bud" Doolen at Tucson High School. He took over the varsity when Doolen suddenly died in 1954. His 1961-62 went 21-0 and won the state championship. In 1968-69 his team posted a 23-1 record winning the state championship for a second time. In 14-1/2 seasons he compiled a 178-113 record.
Morales was Coach of the Year in 1962 and 1969 and was inducted into the Arizona Basketball Hall of Fame in 1967 and the University of Arizona Sports Hall of Fame in 1999.
In 1969 Morales moved to San Diego where he coach baseball at Lincoln High. He is currently retired and living in Hemet, California.