Tucson Rodeo Committee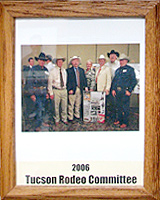 Inducted Class of 2006
In 1925 a wealthy Tucsonan, Leighton Kramer, president of the Arizona Polo Association, had a passion for the Old West. He owned a large parcel of land (known today as Catalina Estates in northeast Tucson) in which he wanted to stage large events that would attract visitors to Tucson in the winter months. After talking with local ranchers and cowboys, he came up with the idea of having a rodeo and rodeo parade. The parade would start in downtown Tucson and eventually end up in the land he owned.
The first event had steer wrestling, steer tying, calf roping and saddle bronc riding. It cost 25 cents to attend, and while it wasn't profitable, it was fun for everyone and local leaders decided to make the Tucson Rodeo an annual event. The volunteer committee that put it on in 1925 would evolve into the Tucson Rodeo Committee for more than 71 years. They would run the event.
It wasn't until 1996 that the Committee decided that the responsibilities for staging a major community event required a professional and hired its first general manager, Gary Williams. From its early simple beginnings, the Tucson Rodeo is now a week-long event, raises hundreds of thousands of dollars for local charities and has hundreds of professional cowboys and cowgirls competing. It is broadcast on national television and has more than quarter-million visitors attend its events. The Tucson Rodeo is a part of the Tucson community and the PCSHF recognizes that "volunteer committee" that started the rodeo and still assists in its operation today.
The Tucson Rodeo Committee will join other rodeo PCSHF Hall of Famers Ed Echols, Sherry Cervi, Chuck Henson and Louise Serpa.