Virgil Stan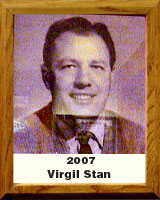 Inducted Class of 2007
Virg was the first coach at one of Tucson's long-time outstanding high school football programs, Sahuaro, after moving over from an assistant coaching position at Tucson High in 1968. Virg quickly built the Cougars into a power and was named AAA South Division Coach of the Year in 1972, a year in which Sahuaro won the AAA South Division and advanced to the state semi-finals. Another highlight season came in 1979 when the Cougars went 8-2, a year after an 0-8-1 record. Before leaving the coaching post in 1983, Virg produced 15 All-State players, two All-Americans, four players who reached the National Football League and coached in the Arizona All-Star game in 1975 and 1980. His overall record at Sahuaro was 67-68-7.
Before joining Sahuaro Virg was freshman and junior varsity football coach and assistant track coach at Tucson High. In addition to coaching, Virg was an active volunteer with Pop Warner Football, junior high basketball, swimming meets and other functions. As a sports official, Virg was a long-time referee in Arizona. In the late 1950s and early 1960s he officiated junior high basketball games throughout Tucson and worked at Pop Warner Football clinics, teaching fundamentals to youth football players. He continued his volunteer activities into the 70s and 80s at youth swim meets and was a key figure in fundraising that helped send a girls' water polo team to North Carolina.
Virg and his family appeared in television commercials for the Ed Sullivan Show and Walt Disney's Wonderful World of Color.