Warren Rustand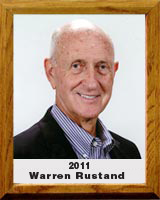 Inducted Class of 2011
Warren Rustand played basketball at the University of Arizona from 1961-1965, and was the first Wildcat to 1) play on a U.S. national team [1966, Silver Medal]; 2) be named an Academic All-American; 3) be named WAC Scholar/Athlete of the Year; 4) play in a national all-star game [1965 East-West game]; 5) be named All WAC three consecutive years; 6) be named to the All-District 7 NCAA team; and 7) lead the team in field goal percentage and free throw percentage three consecutive years.
Rustand also was named Outstanding Sophomore, Junior and Senior Athlete of the Year and was named MVP, Most Inspirational Player and captain in his junior and senior years. In addition, Rustand was named by The Arizona Daily Star as one of the 15 greatest US basketball players all-time, was elected to the UA Sports Hall of Fame, is one of only two UA athletes to be an All-American and Student Body President, and received the Merrill Freeman Award as the Outstanding Graduate based on character, scholarship and leadership.
After his UA career, Rustand was drafted by the San Francisco Warriors of the NBA but instead chose to play AAU basketball, and served as assistant coach at UA (1967-68). He also coached and administered youth basketball for 20 years and worked as a sports reporter for KVOA-TV (1969-72).
In his career away from basketball, Rustand has been involved in government affairs at the highest level. He was a White House scholar, served a fellowship at the Commerce Department and became Appointments Secretary for President Gerald Ford.