Whitney Dosty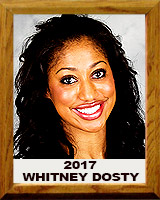 During her junior year at Salpointe Catholic High School she joined the volleyball team. Whitney went on to become a two-time letter winner in volleyball and was ranked as the fourth-best recruit in the nation by PrepVolleyball.com. In 2005 the Arizona Republic selected Whitney to first team all-state. Whitney was named 2005 Southern Arizona Player of the Year by the Arizona Daily Star and the Tucson Citizen, as well as the 2005 Southern Region Player of the Year. Whitney was a two-time all-conference pick, team MVP and co-captain as a senior. Whitney was selected as one of Volleyball Magazine's "Fab 50".
In Whitney's senior year of high prepvolleyball.com named her a High School All-American. Later that year Whitney went on to become a member of the 2005 USA Youth National Team. During her senior year she joined the track team and became the Arizona state high jump champion, she also placed third in the triple jump and ranked in the Top 10 nationally in the high jump. The team was 2006 region champions.
Whitney committed to the University of Arizona on a volleyball scholarship. Whitney had one of the most impressive freshman seasons in Arizona History. She appeared in all109 games, 30 matches and had 23 starts. At the end of her freshman season Whitney was named to the pac-10 All Freshman team. Whitney Led the team in kills her freshman year 13 times and was the only Wildcat to register 20 kills or more in a match with a career-high 29 versus Oregon.
In 2007 Whitney was selected for a second time to represent Team USA at the FIVB U-20 World Championships. Heading into her 2007 collegiate season Whitney suffered a knee injury and had to redshirt her sophomore season. Whitney closed out her career at Arizona with a strong senior season. In 2010 the team played in the NCAA tournament but fell short to Northwestern in the first round.
Whitney graduated in 2010 with a degree in Family Studies, after college she went on to play professionally in Puerto Rico, Switzerland, Korea, Azerbaijan, and Turkey. While Whitney was playing in Turkey she suffered an ankle injury that put a halt on her volleyball career.
Whitney attended School of Style in New York City and graduated from the program in 2014. Soon after Whitney began working on projects as a style intern to Kate Mossman, and April Hughes. Prior to beginning a career in volleyball Whitney studied dance for 13 years at Ballet Tucson. She studied dance in New York City at the prestigious schools of American Ballet Theater in 2001, Alvin Ailey American Dance Theater in 2002 and the Dance Theater of Harlem in 2003 and 2004.
Currently Whitney works as a visual merchandiser at a local boutique while running her own fashion blog www.onwyattstyle.com while working on fashion design projects.