Abdi Abdirahman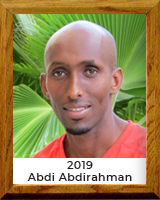 By the time Abdi Abdirahman was a graduating senior at Tucson High School, in 1995, he had not competed in athletics. Twenty years later he was a four-time Olympic distance runner, and an All- American at both Pima College and the University of Arizona. His story is one of those only-in-America tales that makes you shake your head in wonderment. Abdi was born in Mogadishu, Somalia where he attended Jhameyasin Carte High School. His father gained employment, working for an oil company, and was able to move his family from war-torn Somalia to Tucson about 30 years ago.
While watching a track meet at Arizona's Drachman Stadium, his interest was piqued while watching the distance runners, who were among the best in college sports. "I can do that,'' Abdirahman said. And so he did. It wasn't long after Abdirahman watched the UA runners that he met with Pima College coach Jim Mielke and the two agreed that Abdi would suit up for the Aztecs. Remarkably, he won his first-ever cross country race. By the time he left PCC he won two NJCAA championships and was the top runner in the very competitive ACCAC.
Arizona coach Dave Murray, one of the nation's leading distance running coaches, offered Abdirahman a scholarship. "Some people said I was nuts,'' said Murray. "Sure, you're always taking a chance when you sign almost any athlete, but I had a feeling about Abdi. And it sure paid off.'' Murray has remained Abdirahman's coach for more than 20 years. At Arizona, Abdirahman rewarded his coach's faith by becoming the Pac-10 Male Athlete of the Year in 1998, winning the Pac-10 in both 5,000 meters and 10,000 meters. In the fall of 1997, Abdirahman finished second in the NCAA cross country championships.
After becoming a United States citizen in 2000, Abdirahman tackled his most difficult challenge: trying to make the 2000 USA Olympic team. On a hot summer night in Sacramento, Calif., in June 2000, Abdiraham did just that. He was soon on a flight to Sydney, Australia, with Team USA for the Summer Olympics. It would be the first of four Olympic teams for Abdirahman. He was one of three American runners in the 2004 Athens Olympics, the 2008 Bejing Olympics and the 2012 London Olympics. He plans to be in the 2020 Tokyo Olympics trials this winter, at age 43.
Abdi qualifies for the 2020 Olympics: