Barry Roth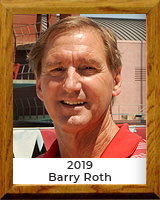 Barry Roth arrived at Arizona as a freshman swimmer in the 1970s and promptly broke the UA school record in the 50 yard freestyle. After that, his swimming career got better — even though he has produced most of his major swimming accomplishments after he turned 40.
Roth coached Sahuaro High School and Sabino High School to No. 2 finishes in the state championships, in the 1980s and 1990s, respectively. In 1994, he was named the Coach of the Year by the Arizona Interscholastic Association. But it wasn't until he became a masters swimmer that he became a world-record holder. In 2011,
Roth and three of his teammates from the UA Ford Dealers masters team at Hillenbrand Aquatic Center, broke the world record in the 200 freestyle relay in 2011. Four years later, Roth was a key part of another Ford Aquatics relay team, setting a world record in the 800 freestyle relay. In all, Roth has produced 150 nationally- recognized Top 10 times in masters swimming, including eight records.
"I swim because I love the social environment," he said. "I like to work hard and win. Swimming fast is really fun." Roth swims about four days at week at Hillenbrand Aquatic Center, with about 3,500 yards per workout. He began swimming when he was 13 after his parents built a pool at their residence near San Francisco.
After teaching at both Sahuaro and Sabino high schools, Roth returned to the UA where he earned three degrees — bachelor's, masters and a doctorate. He taught science and biology for 20 years in the TUSD before becoming a professor in the UA College of Education.