Bill Bland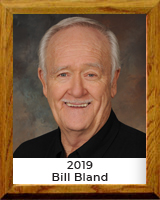 Bill Bland grew up in Illinois, earned an education degree from the University of Illinois, and moved to Tucson to continue his education and become a coach. After teaching at Carson Junior High School, Bland was hired at a new school on Tucson's east side, Santa Rita High School. He didn't take long to leave an imprint.
From 1972-81, Bland was the boys head track coach at Santa Rita and it wasn't long before the Eagles were a powerhouse. Not just a Tucson powerhouse, one of the state's top track programs of the last 50 years. His Eagles were either first or third in the state finals four times, winning the championship in 1979 and 1981. To give you an idea of how difficult that was, only one Tucson team — Amphitheater High School — has won the Arizona track championship at the state's highest level since Bland retired from coaching in 1982.
Bland knew so much about the sport, that a day before the Eagles won their first title in 1979 he charted the meet event-by-event and told reporters that he thought Santa Rita would prevail 67-66 over Scottsdale Coronado. "It's going to be very, very close," he said. Santa Rita won 63-60, almost exactly what Bland predicted.
"I have many priceless memories from those days," said Bland, who helped to develop the state's track and field athlete of the year, Dannie Jackson, one of the top all-around athletes in Arizona history. "He was a once-in-a-lifetime athlete," said Bland, who was something of a once-in-a-lifetime coach at Santa Rita.
Bland then coached the Eagles to the 1981 title with a commanding 75-56 edge over runner-up Westwood High of Mesa. Bland was named Tucson's all-city track coach in 1976, 1978, 1979 and 1981.
When Larry Williams, the man he followed as Santa Rita's track coach, learned that Bland had been voted into the Pima County Sports Hall of Fame, Williams said "It's a well-deserved award for a great man."