Bob Scofield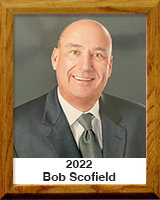 As a young man growing up in Denville, N.J., Bob Scofield decided to supplement his income as a postal service employee. The local YMCA was looking for officials and since Scofield had been a high school soccer and basketball standout, he liked the thought of getting back into athletics.
Scofield signed up. It was a life-changing decision.

"I started officiating Pop Warner football,'' he remembers. "I got hooked, got the bug.''

From there, Scofield began working high school freshman and junior varsity basketball games. A year later he got involved with high school football. His career quickly escalated as he began officiating Division III college basketball.

A few years later, 1988, Scofield was transferred to Tucson by the U.S. Postal Service. He arranged to meet Boyd Baker, then the head of high school officiating in Southern Arizona. Baker was impressed by Scofield's resume and quickly hired him. First game: a JV basketball game in Nogales. A few weeks later he was working a Lute Olson scrimmage at McKale Center.

It wasn't long until Scofield was hired by the ACCAC to officiate junior-college men's and women's basketball games in Arizona, from Cochise College to far-away Arizona Western College in Yuma.

In the early '90s, Scofield got another break. He was hired by the Big Sky Conference to officiate women's basketball games. Then the Pac-10 hired Scofield.
In 1999, his first year in the Pac-10, Scofield was given a merit-based assignment to work the NCAA Tournament. He called a UCLA game at Pauley Pavilion. Incredibly, his '99 NCAA Tournament assignment began what is now a 23-year streak of being selected to officiate NCAA Tournament games.

In 2016 he worked the Final Four in Indianapolis.

Perhaps the most impressive part of Scofield's long officiating career is that in 2008 he was hired to work both men's and women's NCAA Tournament games. He remains the only person ever to work both sports in the post-season.

He officiated the UCLA-Mississippi Valley State men's game at Pauley Pavilion one day, and the next day was sent to Virginia to work the Texas-Georgia women's game.

Scofield has worked eight Sweet 16 games in his career.

The son of a policeman from New Jersey, growing up about 20 miles from New York City, Scofield has been a mentor to scores of young Tucson officials, both men and women, and continues to work the Southern Arizona officiating camps.