Buddy Doolen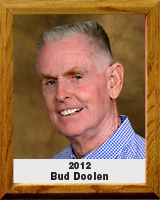 Inducted Class of 2012
Buddy Doolen was an all-state basketball player his senior year (1961) at Catalina High School, leading his team to a runner-up finish in the state championships. He also was state decathlon champion in 1961.
Doolen played basketball at the University of Arizona under Bruce Larson and was a staring guard and tri-captain his senor year. He then was recruited by UA football coach Jim LaRue to return for a fifth year of college and he became a starting defensive back.
After graduation from UA, Doolen became the head basketball coach at Westwood High in Mesa in 1973. His teams won 381 games and lost 263 in 25 season. Westwood won six divisional titles during Doolen's tenure and made the Final Four in the state tournament three times. Doolen was named East Valley Coach of the Year (Mesa, Tempe, Chandler and Scottsdale) four times and  Phoenix Metro Coach of the Year in 1975. He was inducted into the Mesa City Sports Hall of Fame in 2007.
Doolen is the son of B.C. Bud Doolen.