Chris Duncan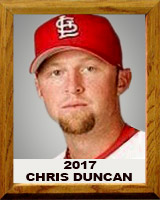 Chris Duncan made his professional debut with the Johnson City Cardinals of the Appalachian League shortly after his signing. After seven seasons in the Cardinals' farm system, including the Triple-A Memphis Redbirds, Duncan made his debut with the big club on September 10, 2005. On October 2, 2005, he became the last player to hit a home run at Busch Memorial Stadium during the regular season.
Duncan is a graduate of Canyon del Oro High School in the Tucson suburb of Oro Valley, Arizona. While there he was a teammate of Texas Rangers All-star second baseman Ian Kinsler. He was drafted by the St. Louis Cardinals in the first round (46th overall) in the 1999 Major League Baseball draft as a supplemental Pick for loss of Free Agent Delino DeShields to the Baltimore Orioles.
He is the youngest son of Dave Duncan, a former catcher and retired pitching coach for the St. Louis Cardinals. His older brother, Shelley Duncan, was also a first baseman and outfielder for the Cincinnati Reds the New York Yankees and The Cleveland Indians.
Chris is currently a co-host with Anthony Stalter on a mid-day radio program on the St. Louis ESPN Radio. Since October 2, 2011, Duncan has been a host for WXOS, the ESPN Radio affiliate in St. Louis. He originally began on the nightly program "Stully and Duncan." On January 4, 2012, Chris was replaced by former Fast Lane commentator Bob Ramsey, making the show "Stully and Rammer", while he moved to co-host "The Fast Lane" with Randy Karraker and former Rams defensive tackle and Super Bowl XXXIV champion D'Marco Farr.  He is currently a co-host of "The Turn".
Duncan became a regular starter in 2007, playing 127 of the team's 162 games that season. He batted .259/.354/.480, hitting 21 home runs (2nd on team) and 70 RBI (2nd on team) and 3rd doubles (20). He also finished second in total bases (180). In the NLCS Duncan hit a huge Hr. to build on a lead that lead to a crucial home victory. In the 2006 World Series, Duncan appeared in three of the five games, going 1 for 8 with one run batted in… Duncan and the Cardinals won the World Series, defeating the Detroit Tigers four games to one. Following the 2006 season, Duncan was named the team's Rookie of the Year. Mark McGwire has served as his hitting coach since 2007.
In high school Duncan played Football and was a two year southern AZ All Star player. In high school Chris Duncan totaled 19 home runs on varsity and helped brother Shelley win the 1997 state championship with a phenomenal state championship game going 4-4 and playing All-star Defense at 1b.
In Chris Duncan's baseball career he has won 4 Championships: 1997 AZ State Championship, 2002 Midwest League championship, 2004 Southern League Championship and the 2006 World Series Championship.