Ian Kinsler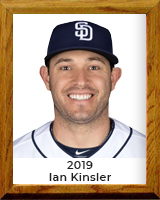 As a young ballplayer at Canyon del Oro High School, Ian Kinsler was just one of the guys. He was surrounded by so many talented teammates that Scott Hairston, Shelley Duncan, Chris Duncan and Brian Anderson all reached the major-leagues. Kinsler forged his own path, playing first at Central Arizona College and then becoming an All-Big 12 second baseman at Missouri.
Drafted in the 17th round by the Texas Rangers, Kinsler has gone on to play in four All-Star Games and collect 1,999 career hits, by far the most of any Tucsonan in big league baseball. He completed the 2019 season playing for the San Diego Padres. He previously played for the Texas Rangers, Detroit Tigers, Los Angeles Angels, and Boston Red Sox.
With the Red Sox, he won the 2018 World Series over the Los Angeles Dodgers. Despite having been drafted in only the 17th round out of college, Kinsler has risen to become a four-time All-Star, and a member of the Sporting News' 2009 list of the 50 greatest current players in baseball. He is known as a five-tool player, hitting for average and power, and excelling in baserunning, throwing, and fielding. He twice won a Gold Glove for fielding excellence. Kinsler has twice hit 30 home runs and stolen 30 bases in the same season (2009 and 2011), and is one of 12 ballplayers in major league history who have had multiple 30–30 club seasons.
In 2011, he also joined the 20–20 club for the third time, one season shy of the major league record for a second baseman. He hit for the cycle in a game in 2009, while getting hits in all six of his at bats. Through 2013, Kinsler led the Texas Rangers, all-time, career-wise, in stolen bases and power-speed number. In November 2013, he was traded to the Detroit Tigers for Prince Fielder. He has been awarded both a Fielding Bible Award (2015) and two Gold Glove Awards (2016 and 2018). Through 2019, on defense Kinsler had the best career range factor of any active second baseman in MLB, while on offense among all active players he was 3rd in power–speed number and in career runs scored, and 5th in career doubles. He ended the 2019 season with 1,999 career hits.