Cindy Preble Coleman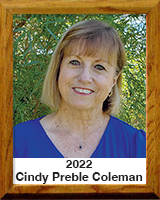 Cynthia Ann (Cindy) Preble Coleman is the daughter of an Air Force Colonel from Indiana and a South Carolina nurse, Bill and Lou Ann Preble, Cindy is the second of 11 children who grew up all over the world, attending 10 schools before the age of 18.

Helping with her siblings gave her a good start in the training needed to become an educator and coach.

When her father was transferred to Davis-Monthan Air Force Base just prior to Cindy's senior year in high school, she enrolled at Palo Verde High School. Her PE teacher, Peggy Baker, taught Cindy new sports and how to compete and improve her fitness and skills.

When she enrolled at the UA in the late 1960s, Cindy soon became part of the Title IX legislation that created opportunities for women in college sports. Guided by Baker, Cindy became a high school wrestling referee. By 1971, she became a summer team swimming coach. Fortunately, nine of her siblings were on that team.

By 1977, Cindy became a teacher and coach at Cholla High School, coaching gymnastics at the high school and continued coaching and officiating in the Southern Arizona Aquatics Association. She also taught and coached at Carson Middle School and Tucson High School.

After returning to the UA to earn a Master's degree, Cindy joined a master's swimming team and over the next decade held state records and placed in the Top 10 nationally. She then became the head girls swimming coach at Palo Verde High School in 1982 and took charge of the boys program in 1983.

In the 1990s, Cindy found success in developing individualized mental preparation programs that assisted athletes recovering from injuries. She helped injured athletes such as Palo Verde pole vaulter Jack Van Ripper, swimmer Nancy Owens and swimmer Matt Pelot all win regional and state titles.

She then joined the coaching staff of the PVHS track team and over the next two decades, coached dozens of state and regional champions.
Cindy's last two coaching positions were both with Rincon/University High School's swim and track teams. In her only season as head track coach, the 2005 Rincon/University team went 14-0 and won the regional championship. Her 2006 Rincon/University boys team became state champions, capping her final season as a coach.