Peggy Baker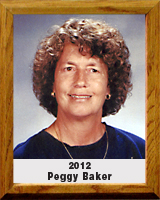 Inducted Class of 2012
Peggy Baker was athletic director at Palo Verde Magnet High School for 24 years after teaching physical education at Palo Verde and Tucson High School for 20 years. She coached girls' volleyball, gymnastics and softball during her tenure at Palo Verde.
Baker took on a leadership role at Palo Verde by initiating and hosting the Boyd Baker Classic Basketball Tournament as well as being the host school for the Tucson Unified School District volleyball tournament for 10 years. She also served as Tucson's representative to the Arizona Interscholastic Association.
Baker lettered for four years in badminton at Amphitheater High School and played the port for two years at the University of Arizona. She was honored as the Women's Sports Foundation "Sportswoman of the Year" in 2000 and the AIA4A Athletic Director of the Year in 2002. She was also the AIA Commissioner of Officials for Girl's Sports from 1979-1989.