Dave Feitl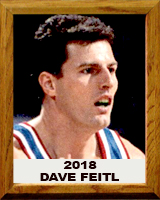 Dave Feitl moved to Tucson with his family from Butler, Pennsylvania, just before his sophomore year at Santa Rita High School. He was 6-feet-7 inches and although he was late to the game of basketball, it didn't take long to realize he was special.
In a preseason game against two-time defending state champion Pueblo High School in 1978-79, Feitl made an impression on the Warriors' state title coach Roland LaVetter. "He does some things well for a sophomore,'' said LaVetter.
"He could develop into a great athlete.'' By year's end, Feitl helped Santa Rita reach the state championship game. A year later he made the All-City first team, along with college recruits Harvey Thompson of Cholla, who went to Arizona; Troy Cooke of Flowing Wells, who also went to Arizona, and Gary Lewis of Sahuaro, who went to Texas A&M.
By then the college recruiters, notably UTEP assistant coach Tim Floyd, had begun to notice Feitl, who had grown to 6-10. It didn't take long for Kansas State, SMU, San Diego State and No. 1 ranked Oregon State to offer recruiting visits to Feitl. Arizona gave Feitl an ultimatum to take an official visit to Arizona or they wouldn't offer him a scholarship. Feitl chose UTEP instead. It was the same year he was named the state's player of the year, leading the state in scoring with 25.7 points per game. Santa Rita went 59-18 in Feitl's three varsity seasons.
His decision to attend UTEP was a good one. Under coach Don Haskins, the Miners went to the NCAA Tournament in 1984, 1985 and 1986. The Miners rose as high as No. 9 in the Top 25 and in a NCAA game against Tulsa, Feitl clinched the 79-75 victory with two late free throws. UTEP won 95 games in Feitl's four seasons in El Paso. He became an All-WAC center, then the second-leading scorer in school history, and was drafted in the second round in 1986 by the Houston Rockets a few days after the Rockets played the Boston Celtics in the NBA Finals.
Making the team seemed to be daunting; the Rockets had all-star center Hakeem Olajuwon and former Virginia All-American Ralph Sampson at center. But Feitl not only made the team, he played five NBA seasons, later playing for the Warriors, Bullets and Nets.
In 1990, he spent the year playing pro basketball for Arimo Bologna of the Italian EuroLeague. Feitl has spent most of his post- basketball career as a sales executive and now lives in Sedona.
— GREG HANSEN