Dave Sitton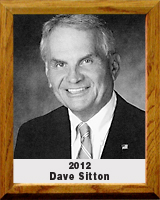 Inducted Class of 2012
Dave Sitton was recruited by Jerry Kindall to play baseball at the University of Arizona but a shoulder injury cut short his career. He has had five shoulder operations to date.
Sitton played rugby at the University of Arizona and became the Wildcats' head coach until the present time. His overall record is 381-200-12.
Sitton became the radio play-by-play man for the UA baseball broadcasts from 1981-90 and through Engel Marketing Sitton placed Tucson Toros' baseball on the air in 1986 after a six-year absence. Sitton has been the local television voice for Arizona basketball since 1990 and won the national Academy of Television Arts and Sciences Emmy Award for basketball play-by-play in 2010 and football in 2011.
Sitton held a boxing promoter's license for three years and stage one fight with Michael Carbajal in his last Arizona appearance that drew over 3,300 at the Tucson Convention Center.