Dwight Rees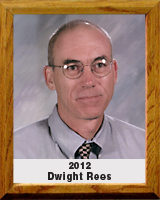 Inducted Class of 2012
Dwight Rees began his coaching career in 1973-74 as a graduate assistant basketball coach under Fred Snowden at the University of Arizona, the first person to hold this position.
Rees was head boys' basketball coach at Globe High School for two years before moving to Sunnyside High in 1976-77. His first team went 23-5 and finished second in the state.
In 1981-82 Rees became the head basketball coach at Pima Community College for three years before returning to Sunnyside High School.
Rees' 1992-93 team went 29-0 and won the state title, the first-ever for Sunnyside. Rees won 272 games during his high school coaching career. He won Coach of the Year honors in 1975, 1977, 1987, 1989 and 1993.
Rees retired from coaching in 2001 and in 2011 retired from teaching.