Herman House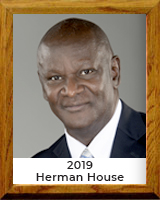 In more than a decade as the director of athletics for the Tucson Unified School District, Herman House has been charged with the scheduling, eligibility, compliance and officiating of 25 TUSD middle & K-8 schools and 10 high schools. It is a big job but House has been a big man, equal to the challenges.
The 6-foot 5-inch former college basketball player from Chicago, the son of Mississippi sharecroppers, has made an impact in Tucson sports since he arrived as an assistant junior varsity basketball coach at Catalina High School in 2015. He ultimately became Tucson High's athletic director and, 11 years ago, the director of TUSD's athletic programs, a job that has been held by just three people the last 40 years.
"Herman's absolutely the best," said Will Kreamer, who was the football coach at Tucson High during House's tenure at the school. Kreamer later became an AD at Sabino, Ironwood Ridge and Tucson High. "Herman and I had many conversations about decision-making and one of the things that stayed with me that I got from him is, as an administrator, if you ever have difficulty making a decision, do what's best for the kids," said Kreamer.
House must make difficult decisions during an era of open enrollment and transfer students, an issue that has at times shook the structure of athletic competition in the Arizona Interscholastic Association. He has been so highly regarded within the AIA that he served as president of the Executive Board. "Each case is different, every student has a different reason for transferring," said House. "I take it very, very seriously. I must do the right thing, for the athlete and the school. It's not a responsibility for everyone."
One of House's top achievements within the Tucson sports community was the creation of the Martin Luther King Classic, a January basketball event at McKale Center that annually involved seven games in one day, matching boys and girls teams of every classification in Southern Arizona.