Jim Pyers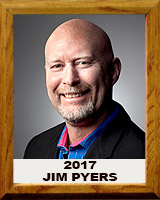 Jim Pyers was a three year starter at Tucson's Santa Rita High school, leading the Eagles to the State Champion Finals and 24-4 season record. In 1978-79 Jim was High All-American, 1" Team Arizona All-State and All-City, 1st team Superteam, and the City and States Leading Scorer (25 ppg).
Jim went on to star for Grand Canyon University- as a 4 year starter, Jim earned 2x All Conference, 2x Team MVP, 2x Leading Scorer/Assists, and led the nation in free throw percentage in 1980. A storied small collegiate program, GCU, won NAIA National Basketball Championships in 1975 & 1978; Led by Pyers in 1980 Canyon won 27 games and led the Antelopes to the NAIA District 7 title and National Tournament in 1980. Jim was MVP and team captain during the 1982 & 1983 seasons. Jim finished his playing career at GCU as the 8th all-time leading scorer (+1100 pts) in school history, with over 110+ games started and 80+ victories, and owned school records for FT% (89.9) for a season and career. As a pro (1984-1992, 1998-99)
Jim played professionally in Switzerland and internationally. Jim Led the Swiss National league in scoring 2x, in 3pointers 3x, in Free Throw 6x and average over 30+ points per game for his career. Jim led his team in Lucerne (Reussbuhl) to the league's best record and Swiss Championship finals in 1988.
Following his professional playing career, Jim coached professionally (1992-96) in Switzerland leading teams to winning records, and playoffs in each those 3 seasons.
NOTE: During the 83-84 basketball season, Jim served as assistant Coach at Grand Canyon working for head coach and former college and professional legend, John Shumate (Notre Dame, NBA). During Jim's playing career, he also coached the youth teams (Club system in Europe) that included duties coaching the Cadets (10-12 yrs old), Juniors (13-16 years old) for multiple seasons as part of my team playing responsibilities.
Jim spent many years giving back his experience to youngsters including working in top U.S. and EU Basketball camps- Lute Olsen, Fred Snowden, Alvan Adams/Paul Westphal, Jim Peterson, Swiss All-Star '83-'87, and 2010- 2012 (largest basketball camp in Europe) and many others.
Jim graduated from GCU in 1984, with a degree in Computer Science and then ran his own software engineering business in Switzerland for more than a decade before returning to the U.S in 2000. Jim currently leads Customer Engineering for Qualcomm Life, a mobile communications business based in San Diego. Pyers is the brother of Santa Rita standout Paula Pyers, who starred at Santa Rita and USC and also played professionally in Switzerland.
Jim and Paula both had the privilege of playing for the same high school basketball coach at Santa Rita, Dave Lynch, a legend in Tucson basketball. Dave earned Arizona Coach of Year honors in both the 1979 and 1984 seasons.
Jim is married to Jasmin and has three children, one grandchild- and resides in the San Diego area.