Joe Valenzuela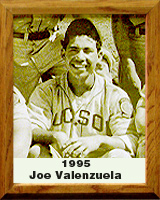 Inducted Class of 1995
Raised on the Tohono O'Odham (then Papago) Reservation in Sells, Arizona, until age 13, Joe Valenzuela was coached at the Sells Indian School by baseball legend Frank Sancet. Before graduating from Tucson High School, he was a pitcher and outfielder on the state championship baseball teams in 1941, 1942 and 1943. In 1941, while on the Arizona Legion team under Chuck Hollinger, Joe pitched the longest Legion game in Arizona history, 16 innings. He also became the first Arizona Legion pitcher to beat a California team.
Joe spent seven years playing AA and AAA professional baseball. While with the New York Yankees and San Diego Padres, he was coached by Vernon "Lefty" Gomez and Casey Stengel and was a teammate of Ralph Houck, Charlie Silveira, Bob Porterfield and a roommate of Whitey Ford. He pitched for five years with the Hermosillo, Mexico, Naranjeros.
Joe served on the Tucson Baseball Commission and was a founder of the South Tucson Benefit Sports Club. He also served as Arizona-Mexico baseball negotiator.