Lacy Williams Benson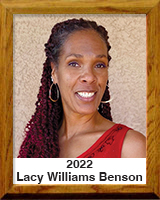 Lacy Williams Benson became a big part of Catalina High School volleyball coach Mary Hines's Hall of Fame career.

In 1983, Lacy was selected to the All-City first team, a 5-foot 11-inch athlete who successfully converted 98 percent of her hits, which is a remarkable
statistic for any level of volleyball.

The Trojans went 18-2 and won the state championship.

After leaving Catalina High School, Lacy spent two years playing with Scottsdale Community College. The Artichokes won back-to-back national championships in 1984 and 1985, and Lacy was twice named to the all-tournament team. She was also named an NJCAA All-American Volleyball Player for both of those years.

Her coach, Bernard Ing, said that Lacy was "the best junior college middle-blocker in the nation.''

While major colleges scouted at Scottsdale Community College, Lacy was offered scholarships to the high-powered schools of UCLA, USC, Texas, and Long Beach State. Lacy chose Long Beach State, then one of the
nation's leading women's volleyball programs. LBSU won national championships in 1973, 1977, 1989, 1993 and 1998. It has featured national players of the year Misty May, Tara Cross, and Danielle Scott.

Lacy was a starter for Long Beach State in 1986 and 1987.