Mark Carreon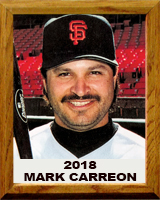 Mark Carreon grew up in baseball: His father, Camilio Carreon, was a catcher for the Cleveland Indians, Chicago White Sox and Baltimore Orioles. The Carreon family made Tucson their home because it was so convenient during the years the Indians staged spring training at Hi Corbett Field.
By the time Mark was a sophomore at Salpointe Catholic, 1979, it was obvious he had his father's baseball gene. Mark hit .333 as a sophomore and struck out only once in 85 at-bats. A year later he was even better, hitting .466 again with just one strikeout.
Pro scouts noticed, and so did Arizona's NCAA championship coach Jerry Kindall, who began to recruit Carreon. As a senior in 1981, Carreon was even better, hitting .486 with 22 stolen bases and no strikeouts. He struck out only twice in three varsity seasons, a state record.
"The thing that's amazing to me,'' said Salpointe baseball coach Bob Scott, "is that Mark is never satisfied.  Even if he walks, you know he's going to steal second.''
Before Carreon's senior year, Scott gave Carreon a copy of a popular baseball book written by famous batting coach Charlie Lau. "Mark devoured it,'' said Scott. "He adopted a new stance the way Charley Lau outlined it.'' It worked, too. Carreon was named the captain of Tucson's all-city team, one that included future major-league all-star catcher Tom Pagnozzi of Rincon and Sahuaro power hitter Wes Kent, who had set the city's home run record.
Carreon signed to play for Arizona; Kindall hoped he would replace all-star outfielder Dwight Taylor in centerfield. "Mark is the best outfielder in the state,'' said Kindall. "We've seen a lot of good players this year. Mark is a candidate to start for us (as a freshman).''
Instead, the New York Mets drafted Carreon in the eighth round. Carreon signed. It was a good decision. He ultimately played in the major leagues from 1987-1996, spending time with the Mets, Indians, Giants and Tigers. His best season, 1995, he hit .301 with 17 home runs for the Giants, a year he was awarded the Willie McCovey Spirit award for being a good teammate.
After leaving the Indians in 1996, Carreon signed with the Chiba Lotte Marines of the Japanese professional league, where he spent two seasons. To this day, Carreon holds the New York Mets franchise record with eight pinch-hit home runs.
— GREG HANSEN