Paula Aboud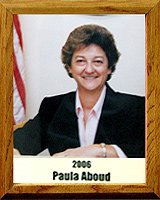 Inducted Class of 2006
A third generation Tucsonan, Paula is a graduate of Tucson High School where she played for Pima County Sports Hall of Famer Sue Clark from 1964-1968. In all four years on the tennis team she was undefeated in all her doubles and singles matches. Her only loss came in the finals for State Champion. She won the City Championship numerous times and by 1968, was ranked #2 in Singles in the Southwestern United States. While at Tucson High School, she also played on two City Champion Volleyball teams.
She then went to the University of Arizona where she played tennis, basketball, and volleyball holding rankings in each of the sports. At the University of Arizona, she was a member of the Arete Athletic Society; Chimes; and President of the Women's Athletic Asociation.
She had a short stint as a semi-pro basketball player in 1973-1976. After graduation, Paula became a teacher at Rincon High School, coaching Tennis and Volleyball fron 1972-1977. She won a State Championship in volleyball during that time. She then moved to New England and was a coach for Tennis and Squash at Colby College from 1985-1991.
She retired from coaching in 1991 and returned to Tucson where she became active in a variety of community causes ranging from human rights to being a neighborhood activist. She is a businesswoman deeply involved in political causes holding numerous positions within the Democratic Party of Arizona. In the Spring of 2006, she was unanimously appointd the new State Senator to fill a vacancy in District 28. In September of 2006 she was elected to that seart full term.