Paula Pyers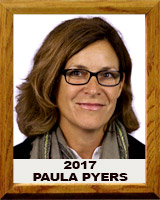 A four-year starter at Santa Rita High School, Pyers is one of the most prolific girls' basketball players in Arizona history. In 1984, Pyers led the Eagles to a 28-0 season and the state championship. She averaged 28.9 points per game that season under Coach Dave Lynch, and led the Eagles in scoring, assists and steals.
Arizona record books are replete with Pyers' achievements at Santa Rita, including first all-time total points in a game (50) for Division SA (Pyers holds 4 of the top 10 spots in total points), second all-time total points in a season for Division SA (780), top three all-time throws made in a season (164), top five total assists in a game (13), and top ten for total career points in Division SA (2082).
In l999, Pyers was honored as Arizona's Athlete of the Century for girls' basketball Following her Santa Rita career, Pyers went on to play for the University of Southern California, who won back to back National Championships in 1983 and 1984. USC placed 2nd in the nation in 1984-8S, and Pyers led the Trojans to the Sweet 16 in 1986-87 and 1987-88 as team captain.
Pyers played for the USA Women's Basketball team in 1985, and also earned Academic All-Pac-10 honors in 1987-88.
While at USC, Pyers also played for the Trojans women's soccer team. Pycrs graduated with honors from USC in 1988, and following one season of professional basketball in Zurich, Switzerland, she went on to earn a J.D. degree magna cum laude from Southwestern University School of Law in 1994.
Pyers currently leads the Supplier Social Responsibility organization at Apple, Inc. in California, advancing human tights and environmental protections globally. Pyers is the sister of Santa Rita standout Jim Pyers, who played professionally in Switzerland for 9 seasons after playing at Grand Canyon College.