Pueblo High School 1990 Girls Softball Team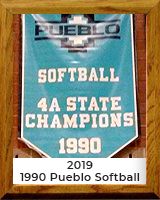 Pueblo High School's softball team put together a 16-game winning streak before it entered the 1990 state tournament. The Warriors were not looked upon as anybody's favorite. Cottonwood Mingus began play with a 23-0 record, ranked No. 1 in the state. But things started to change right away. Pueblo beat Kingman High School 6-0 in the quarterfinals as the Warriors' Jennifer Navallez pitched a no-hitter. That got everyone's attention, but rival Desert View High School waited in the semifinals. Pueblo prevailed 6-1. "I just let them hit and our defense did the rest," said Navallez.
Warriors coach Lisa Pina, in her first year at Pueblo after being a varsity assistant coach for four seasons at Flagstaff Coconino, inserted Christine Chacon, 10-1 on the season, as the starting pitcher. Chacon was terrific. She pitched a three-hitter and Pueblo won 2-0, breaking Mingus' unbeaten streak and rolling to the biggest softball victory — then or now — at Pueblo.
"I told the girls all year we had the goal to get here," said Pina. " "Last year the girls felt they choked. We set a goal to do better and make it to state. Then we started winning and played as a team."
Senior shortstop Susie Duarte, an all-city player, hit an amazing .524. Senior outfielder Valerie Zepeda, also an all-city first-team selection, hit .462. Adrianna Padilla got two key hits in the big victory over Kingman. Even Mingus coach Bob Young agreed that Pueblo was a worthy champion. "We felt a lot of pressure," said Young. "(Pueblo) was the better team."
Pueblo finished with a school record 25 victories, losing just two non-conference games all season, hitting a .354 as a team and getting consistently excellent pitching from Navallez and Chacon, who combined to finish 24-2. "With pitching like that and teamwork like that, we were a special team," said Pina. "It's a year all of us will remember."