Rich Ellerson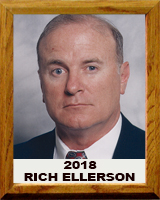 Arizona offered Rich Ellerson a job on its football coaching staff in 1987, a few days after Dick Tomey was hired to be the UA head coach. Ellerson initially said yes, but a day later phoned back and said he would remain as Hawaii's defensive coordinator. His wife, Dawn, was in medical school and it wasn't a good time to move.
A lot of people tried to hire Ellerson, a Salpointe Catholic High School grad, before he finally accepted a job at Arizona in 1992. UCLA phoned. New Mexico. A team from the Canadian Football League. But once Ellerson returned to Tucson – 20 years after accepting a congressional appointment to the Naval Academy – it was the right time.
It was Ellerson's scheme in the "Double X-Flex'' defensive formation that was the final piece in the puzzle that became Arizona's Desert Swarm defenses of the early 1990s. That defensive expertise ultimately led to Ellerson being a head coach for 14 seasons, at both Army, Southern Utah and Cal-Poly. He won 80 games as a head coach before leaving Army after the 2013 season.
Ellerson, whose brothers John and Geoffrey Jr., played football at Army, was co-captain of Salpointe's 1971 football team, a linebacker-fullback who ultimately transferred from Navy to Hawaii where he played football and was subsequently hired to be one of the first assistant coaches on Tomey's Hawaii team in 1977. He earned his way up the ladder, coaching at Arizona Western College, Cal-Fullerton, for the British Columbia Lions and Calgary Stampeders.
"Rich is a very smart man,'' Tomey said. "He could coach for anybody, at any time. And it's not just coaching, it's the way he is with people. You would want your son to play for Rich Ellerson.''
In 1990, while at Hawaii, the Sporting News named Ellerson one of the 10 top assistant coaches in college football. That was an understatement The year before Ellerson arrived to help coach Arizona's defense, the Wildcats yielded a school-record 4,458 yards in the season. In the next two years, with Ellerson's input and recruiting help, Arizona's total defense totals dropped to 2,763 and 2,606, as he helped to coach future College Football Hall of Famers Tedy Bruschi and Rob Waldrop and All-Americans Sean Harris and Tony Bouie.
After leaving Army in 2013, Ellerson spent two years coaching at Jacksonville in Florida before choosing to retire. He now spends his retirement years split between the Mexican beaches and Tucson.
— GREG HANSEN