Sean Harris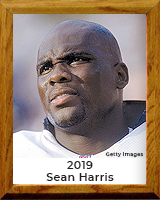 When a photographer from Sports Illustrated traveled to Tucson to shoot the cover photo for the magazine's 1993 college football issue, Sean Harris was one of those who was invited to put on his uniform, No. 49, and pose for the camera. It is a lasting memory of Harris' role on Arizona's Desert Swarm defenses of 1992- 94, when he became a two-time All-Pac-10 linebacker and a third-round draft pick of the Chicago Bears.
He was a third-team All-American as chosen by The Associated Press who led Arizona in tackles in 1992 and 1994. Harris was the Desert Swarm's do-it-all middle linebacker. He was physically imposing at 6 feet 3 inches and 240 pounds, so he could handle the violent collisions with offensive linemen, but he also was nimble enough to deftly shed blocks and be effective dropping into coverage.
"I marveled at his physical capabilities," former UA coach Dick Tomey said. "He was not someone who was a fivestar prospect or a four-star prospect or any of those things. He was a little bit under the radar, but nobody had more physical capability than he did."
Harris was lightly recruited out of Tucson High, but mostly because of some shaky academics, which he overcame, earning his degree in 1995. He redshirted in 1990 before becoming a staple of UA's great defenses of the era. He had 320 career tackles, with 32-1/2 for a loss and 14-1/2 sacks. Harris also intercepted five passes and broke up 17. He ranks sixth on UA's career list with 248 unassisted tackles.
In the NFL, Harris was a backup for three seasons, starting only the final game of the 1997 season, before moving up to first-string. Harris started 37 games for the Bears from 1998 to 2000, playing all three linebacker spots and making 195 tackles in that span. "I had a very enjoyable football career, in high school, at Arizona and in the NFL," said Harris. "I have memories to last a lifetime. Good memories."