Rick McConnell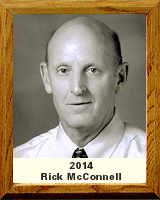 Inducted Class of 2014
Rick McConnell was an outstanding all-around athlete. He started for the varsity Sahuaro basketball team for three years, coached by his father Dick McConnell. All three years, he received All City honors, and in his senior year was chosen for the 1st team All City team. He also played for the varsity baseball team as starting shortstop.
The Cougars were State Baseball Champions in both 1973 and 1974, with McConnell being named 1st Team All State Shortstop by the Arizona Republic in 1974.
Upon graduation from Sahuaro High School, McConnell earned a baseball scholarship to the University of Arizona. In 1976, he was on the Wildcats NCAA Championship team.
After college, McConnell was a teacher and assistant basketball coach at Sahuaro, helping the Cougars win their second state basketball championship in 1982. He spent one year as a teacher and assistant basketball coach under Buddy Doolen at Mesa's Westwood High School. After one year at Westwood, at the ripe old age of 27, he was hired as a social studies teacher and head boys' basketball coach at Mesa's Dobson High School where he remains today.
In 2011, McConnell obtained his 500th career coaching victory. Between them, father and son, the McConnells have amassed over an astonishing 1300 career wins.
McConnell and his wife Pam, have two sons. Like his father Dick McConnell, Rick has had the opportunity to coach both sons, Matt and Mickey. Matt McConnell is the assistant men's basketball coach at Citrus College in California. Mickey has played pro-basketball in Italy for two years and is now with the Texas Legends, Dallas Mavericks D-league team.