Sean Elliott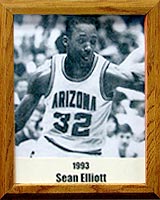 Inducted Class of 1993
Sean Elliott, NBA forward for the San Antonio Spurs since 1990, played four seasons at Arizona, where he finished as the all-time scoring leader in PAC 10 history with 2,555 career points; breaking the previous mark set by Lew Alcindor at UCLA. As a senior at the U and A, Sean was named College player of the Year by Associated Press, CBS-TV, Basketball Weekly, Basketball Times, Kodak, Hoop Scoop, All-Star Sports Report and more. He was the Wooden Award winner; a consensus All American; was named MVP all four seasons leading Arizona to three PAC-10 titles; led the U of A to a Final Four appearance during his junior year; and was a member of the U.S. Squad which won the 1986 World Championships. During his pro career, Sean was the third overall pick in the 1989 NBA Draft by the Spurs. (In his rookie season, Sean had a season high 24 points against Denver in 1990.)
In addition to his incredible performance on the court, Sean (who answered to the nickname "Ninja"), has given much to Pima County sports, both in terms of community pride and in his personal appearances and participation in activities of school and local groups. In the words of former UA Director of Athletics, Cedric Dempsey: "He is an outstanding citizen and role model for our youth. He exemplifies the mission of the athletic department in his pursuit of excellence."
Added to website bio in 2013:
Elliott was inducted into the National High School Hall of Fame on Saturday, July 2, 2005 in ceremonies that took place in San Antonio, Texas.
A native of Tucson, Elliott starred for Cholla High School, where he earned three varsity letters.  As a senior in 1984-85, Elliott averaged 31.3 points per game and led the Chargers to a 24-3 record and a berth in the Class 5A state tournament semifinals.  His 844 points scored and scoring average both were single-season 5A state records at the time.
He was a two-time all-state selection and was named the state high school player of the year in 1985.  Elliott earned All-America honors from McDonald's, Converse, adidas and Basketball Times following his senior season.  Additionally, he was selected to Arizona's 20th Century Super Seven team and the Cholla High School Gymnasium now bears his name.
Elliott played 12 seasons in the National Basketball Association, 11 of those with the San Antonio Spurs.  He averaged 14.4 points per game and closed his career as the Spurs' career leader in three-point field goals made and attempted, while ranking fourth in points scored.  Elliott's 85 career playoff appearances rank second in franchise history.
Both the University of Arizona and the San Antonio Spurs have retired Elliott's No. 32 jersey.  He is one of only three Wildcats and five Spurs to have his jersey retired.
(Courtesy of Arizona Athletics 07/08/05)