Chuck LaVetter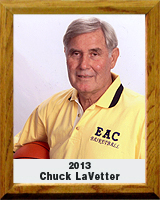 Chuck LaVetter coached for more than 35 years. He started as an undergraduate assistant for Coach Bruce Larson at the University of Arizona. He became the head baseball coach and assistant men's basketball coach at Eastern Arizona Junior College, located in Thatcher, in 1966. From 1969 to 2001 he was the men's head basketball coach and from 1993 to 1995 he also served as the women's head basketball coach. His men's and women's teams won over 500 games. His teams won the Arizona Community College Athletic Region I Conference championships in 1984, 1985, and 1995.
He had a magical year in 1995. He ran through the regular season and regional championship undefeated, with a 32-0 record, and was ranked number 2 in the nation before being upset in the national tournament. He was recognized as the Region I Coach of the Year. He was also acclaimed in USA Today for simultaneously coaching both men's and women's conference play-off teams. He was also recognized on national TV by sports commentator Dick Vitale for his outstanding coaching.
Chuck grew up next to the University of Arizona and went to almost every home athletic event. This is where his coaching inspiration began. He was the Athlete of the Year at Mansfeld Junior High and a three year letterman on Tucson High School's basketball team. In his senior year, Tucson High School's basketball team was the runner-up in the state tournament.
Chuck's brother Roland LaVetter was inducted into the Pima County Sports Hall of Fame in 1995.