Dave Lynch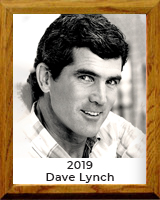 When Dave Lynch graduated from high school in Chicago in the 1960s, he enrolled at Xavier with the purpose of getting an education and making a living. He had been a basketball and baseball standout in Chicago, but once he arrived in Cincinnati to become a Musketeer, he discovered that two players had flunked out at mid-semester, He asked the coaching staff if he could try out for the team. For the next three years, Lynch helped Xavier by scoring 281 points, averaging as much as 5.1 points per game in 1966. Talk about a walk-on who made good.
He spent two years helping coach the Musketeers as a graduate assistant but moved to Tucson in 1970 with the plan to sell insurance. Instead, he became one of the most successful high school basketball coaches in Tucson, coaching Santa Rita High School's boys team to a 24-2 record and a No. 2 finish in the 1978 state tournament. In 1984, coaching the Santa Rita girls basketball team, he produced a perfect 28-0 season and the state title.
He coached like he played. "I just hustled," he said. "I was our team's sixth man in high school. I had no idea I could make a career out of playing and coaching basketball." He also coached Santa Rita's softball team and, in what spare time he had, became the No. 8 ranked men's handball player in the United States. He won four consecutive Tucson city handball championships and won his first state championship in 1978.
His 1984 Santa Rita team included guard Paula Pyers, a first-team prep All-American who went on to start for USC. "Dave was such a good role model," said Pyers. "You couldn't ask for a better coach and person to be part of your life at that stage."