Emma Darlington Munsch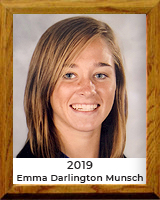 Emma Darlington Munsch is one of the most successful female swimmers in Tucson history, first as a state champion at Salpointe Catholic and later as part of Arizona's NCAA championship team. Her swimming career began to flourish as a Salpointe junior in the fall of 2005, when she won state championships in the 50 yard freestyle and 100 yard freestyle. She led the Lancers to the No. 3 spot in the state finals.
She attracted the attention of Arizona coach Frank Busch, whose team was on the brink of a national championship, and it paid off. At Arizona, Munsch became a three-time All-American, a key member of national championship relay teams. She became the co-captain of the UA women's swimming team in 2011-12. She also qualified for and swam in the 2012 United States Olympic Trials.
At Arizona, Munsch earned a bachelor's degree in history, and then a master's degree in education and teaching. "After teaching high school history for five years at my alma mater, I decided to follow my passion for swimming full time as a coach," she said. "I have been coaching with Tucson Ford Aquatics since 2014 and have helped athletes achieve qualifying times for State Championships, Sectionals, Junior and Senior Nationals, and Olympic Trials. In 2018 I served as the Assistant Women's Coach for the NCSA All-American team in Dublin, Ireland. She became the lead coach for senior/masters swimmers for Ford Aquatics, one of the nation's leading masters swimming programs.