Marcus Titus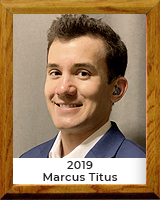 As a senior at Flowing Wells High School, Marcus Titus won the state championship in the 100 yard breaststroke. It attracted so much attention that Pac-12 coaches began recruiting Titus. He ultimately accepted an offer to swim for Arizona State.
A year later, after breaking ASU's school record in the breaststroke, Titus transferred to Arizona and everything changed. First, he broke Arizona's school record in the breaststroke. Then his career trajectory took a higher path. He became a 12-time All-American, an NCAA breaststroke champion, and was a leader of the UA's 2008 NCAA men's championship team. Not bad for someone who is deaf and who didn't start swimming until he was 15.
Titus became a swimmer on the international level at the 2008, 2012 and 2016 Olympic Trials in Omaha. He made the finals in the 100 breaststroke in 2012 and 2016, coming within two seconds of making the American Olympic team. In 2016, he was sixth overall.
"Marcus is a delightful young man, a competitor and someone you want on your side," said Arizona coach Frank Busch, later the director of the USA Swimming teams. "What he has accomplished is amazing."
Between the 2012 and 2016 Olympic Trials, Titus Marcus competed at the 2011 Pan American Games in Guadalajara, Mexico where he won a bronze medal in the breaststroke. He was part of the silvermedal winning 4×100 medley relay. In the same year, Titus swam in the Deaf World Championships in Coimbra, Portugal, where he won five gold, one silver and two bronze medals.
In 2013, Marcus served as a coach for the Deaf Olympic Team and has continued to support the deaf community by being a spokesperson for deaf and hard of hearing athletes in the swimming world. Titus currently works at the Arizona School for the Deaf and Blind in Tucson as a Physical Education teacher. Through this role, he can continue to inspire his students and show them that no matter what life hands you, you can still be successful as long as you are willing to work for it. This is Titus's first season as the head coach of the Salpointe Catholic girls swim team. He also coaches for masters swimmers for the Dolphins of the Desert at La Paloma.