Mari Lou Bell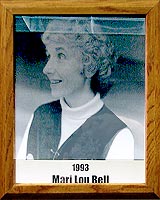 Inducted Class of 1993
For Mari Lou Bell, the name of the game is tennis. She began racking up titles while attending Tucson High School (graduate 1943) where she was state champion in both singles and doubles.
Later, at the University of Arizona, Mari Lou continued her dominance of the court by winning the Southwest Invitational Championship twice, was two-time Arizona Open Champion and also took the Arizona Invitational Championship twice. In 1945, she was ranked number six nationally. But life was always just lobs and volleys for Mari Lou.
In 1951 Mari Lou picked up a mitt and bat for semi-pro Sunshine Girls (coached by Chuck Hollinger) and helped clinch the state title. In fact, in the championship game, her solo homerun win the day, one-zip.
Mari Lou is also an accomplished vocalist, pianist and choir director who served as director of the music departments of Magee Junior High School and L.D.S. Church. One of her choir groups gained national acclaim while touring the U.S. She has also given great time and effort, and inspiration to others, including many years coaching tennis at Carondelet Academy, Magee Junior High and Church League. Cited by her long-time friend and softball teammate, Mary Hines, as "one of the finest all-around-athletes," Mari Lou is a member of the University of Arizona Hall of Fame in tennis and all-sports.