Rich Griffith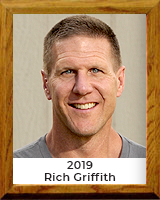 As a Catalina High School senior in 1987-88, Rich Griffith was a standout player for a Trojans football team that finished 0-10. But Arizona coach Dick Tomey looked beyond the statistics and offered Griffith, a lineman/tight end, a scholarship. After all, Griffith was about 6-5, 235 when he was 17. He was also a rebound-clearing standout on the Catalina basketball team. By 1992, when the "Desert Swarm" era began at Arizona, Griffith was on the other side of the ball, a starting tight end and H-back, working the trenches for a team that beat three Top 25 teams and went to the Sun Bowl.
"Rich would do anything to help us win," Tomey said. "He finds the positive. He's a winner."
A few months later, New England Patriots coach Bill Parcells drafted Griffith in the fifth round. He had caught 26 passes for 363 yards — including a game-changing touchdown pass in the 1989 Territorial Cup against Arizona State — but the Patriots liked Griffith for his intangibles. He ultimately played in 90 NFL games, most as a long-snapper for the Patriots and Jacksonville Jaguars, with whom Griffith played in their inaugural season, 1995. He caught 16 passes for the '95 Jags and played through the 2001 season before retiring from football.
"After 17 years of that being your job, it's almost like a biological clock for women," said Griffith upon his retirement. "This time of year, at spring, my body says it's time to get ready for football. But I strongly believe the same passion I had for football, I'll be able to use for this. Football is temporary, no matter how you look at it. I'll be doing this type of work for the rest of my life now."
After leaving the NFL, Griffith became the director of Fellowship of Christian Athletes in northeast Florida. He later became campus pastor at the Woodman Valley Chapel in Colorado Springs. At Arizona, he endured knee surgery and several other injuries but was able to start 40 games for the Wildcats as Tomey built a winning program. Griffith was the same type of contributor in the NFL. He was nominated for the 1996 NFL Man of the Year award. A year later, he was a finalist for the Byron "Whizzer" White award for community service and outreach.