Kenzie Fowler Quinn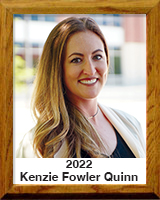 When Kenzie Fowler Quinn set the state softball pitching record with her 100th victory in 2009, she tied it up in a pretty bow by pitching a perfect game.

Such was the standard of excellence Kenzie set in what was surely the greatest high school softball career in Tucson history, and probably Arizona history.

The right-hander from Canyon Del Oro High School went 105-9 in four years under coach Amy Swiderski Cislak, winning successive state titles in 2007, 2008 and 2009.

The only time the Dorados weren't state champions in Kenzie's career was during her freshman season, 2006. She went 28-0 that season and CDO finished No. 2. After that she only got better, if that was possible.
She went 28-1 as a sophomore and was selected the Arizona player of the year.

She went 24-1 with an 0.28 ERA as a junior and was selected the National Gatorade player of the year.

Kenzie capped it by going 25-2 as a senior and again was selected National Gatorade player of the year.

She pitched 14 no-hitters as a senior and also set a CDO career record with 163 base hits. In her high school career, Kenzie's Dorado teams went 129-15, the best four-year record in Tucson history for a high school softball team.
One of the most highly-recruited players in Tucson history, for any sport, Kenzie committed to her hometown Arizona Wildcats as a freshman at CDO.

UA coach Mike Candrea didn't have to wait long to see if the college version of Kenzie was as good as the high school version. Kenzie went 38-9 as an Arizona freshman, becoming a first-team National Fastpitch Coaches Association All-American, an all-Pac-10 pitcher with a 1.53 ERA and 371 strikeouts, leading the nation.

She made the Women's College World Series all-tournament team, pitching the Wildcats to the championship game.

As a UA sophomore, Fowler was again a first-team NFCA All-American, 26-9 with a 1.87 ERA even though she missed time due to an injury. She completed her college career with an 87-33 record, even though her last two seasons were interrupted and at times shut down by serious injuries.

After her playing career, Fowler became an analyst for both the Pac-12 Networks and ESPN, calling games at the College World Series. Married to former UA football standout Kyle Quinn, Kenzie is the Video Production assistant in the UA's Creative Services department.
Kenzie joins four family members in the Pima County Sports Hall of Fame including her mother Kelly Fowler, her grandfather Norm Patton and her aunts Vicky and Patty Patton who entered the hall as members of the Marana High School 1982 Girls basketball team.