In Memoriam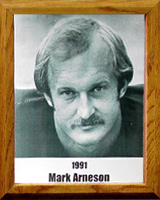 Pima County Sports Hall of Famer Mark Arneson passed away on April 14, 2023.
"The Pima County Sports Hall of Fame was deeply saddened by the death of one of its members, Mark Arneson," said Pat Darcy, President of the Pima County Sports Hall of Fame. "Mark was inducted in 1991 with the PCSHF second class. A Palo Verde grad, Mark was an All-State linebacker and was one of the best high school football players to come out of southern Arizona."
Arneson had nine outstanding seasons (1972-80) as a linebacker with the St. Louis Cardinals. As a starter every year he played in 104 consecutive games. He was named Rookie of the Year in 1972 and held the Cardinals' record for most recovered fumbles (18). He was Defensive Player of the Game in the 1974 playoff game against the Minnesota Vikings. The Cardinals won the conference title that year and in 1975.
Arneson was a standout football player at Palo Verde High School making the All-City team his junior and senior years. He played in an All-Star football game in Flagstaff in 1962. He was also an outstanding wrestler at Palo Verde where he compiled a 10-1 record his senior year.
Arneson went on to play football at the University of Arizona where he became team captain and was All-Conference (1973-74) in the WAC. He was named first team All-American by Time Magazine and Sporting News. He played in the Senior Bowl, the East-West All-Star Game and against the Dallas Cowboys in the College All-Star Game.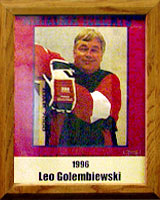 Pima County Sports Hall of Famer Leo Golembiewski passed away on January 8, 2023.
Golembiewski was inducted into the PCSHF with the class of 1996 while in the middle of his run as head coach of the University of Arizona Icecat Men's Hockey Club.
Golembiewski was head coach of the Icecats from 1979-2011, bringing the club team to national prominence and a fan favorite for Tucsonans. The Icecats won the National Championship in 1985 under Golembiewski's leadership.
"Leo's record as Icecats head coach was 634-217-23," said Pat Darcy, President of the Pima County Sports Hall of Fame. "He turned Tucson into 'Hockey Town.'"
Golembiewski earned his undergraduate diploma at St. Procopius, where he starred for four years as All-League and tournament All-Star goalie. Then came a stint with the NHL St. Louis Blues. He taught History and coached hockey and Lyons Township HS in Illinois where his teams won 302 games with only 43 losses and 12 ties, giving him 640 career wins.
Arriving in Tucson in 1977, "Mr. G." taught American Government at Salpointe HS while earning his Master's at the UA, and beseeching the Athletic Department to allow him to start a hockey program. That program, which annually drew more than 108,000 fans to the Madhouse on Main Street (TCC) was the third-largest draw in all of college hockey.
Golembiewski served as president of the American Collegiate Hockey Association and headed the annual Leo Golembiewski Celebrity Golf Classic for MDA.
---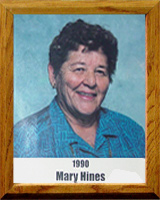 Pima County Sports Hall of Famer Mary Hines died on November 19, 2022.
Hines was the only woman inducted into the hall of fame, along with 16 men, in the inaugural class of 1990.
Called the Vince Lombardi of high school volleyball, Hines compiled a 215-27 career record, .888 while coaching the sport for 28 years at Catalina High School.
Hines' teams won six division and 10 league titles. She was named state Coach of the Year three times and in 1985, the National High School Volleyball Coach of the Year. This "sweet bundle of energy," as one sportswriter called her, had special magic in her enthusiasm.
Hines so dominated volleyball with her awesome coaching that in only two years over a 16-year stretch did her teams finish out of the money. Over 14 seasons her teams won either city, division, league, or state titles and on four occasions Catalina High was runner-up to the state title.
Among the student-athletes that played for Hines are Pima County Sports Hall of Famers Lacy Williams Benson (2022), Anne Davenport (2010), Juanita Kingston (2008), and Kathy Krucker (1995). Hines was also the head coach for the 1972 State Champion Catalina High School volleyball team that was inducted into the Pima County Sports Hall of Fame in 2018.
Hines was named to the University of Arizona Hall of Fame as well as the Arizona Softball Hall of Fame.
---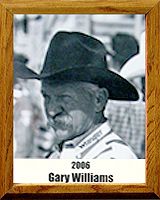 Pima County Sports Hall of Famer Gary Williams died on October 2, 2022
Williams was inducted into the Pima County Sports Hall of Fame in 2006.
Williams was the first General Manager of the Tucson Rodeo. A native Tucsonan, he graduated from Rincon High School. He earned a business degree from the University of Arizona, but his love of being a cowboy and the rodeo kept him in Tucson. He started attending rodeo as a child because his dad played in a Western band that performed during the rodeo. This love for the sport resulted in Williams becoming a bull rider.
Williams rode bulls for 16 years, followed by being a rodeo clown for three years. In 1987 he became a member of the Tucson Rodeo Committee, a volunteer organization for which he worked as chairman of the publicity and promotion committee. He eventually became vice chairman of the committee and then chairman of the Tucson Rodeo Committee. During the time he was volunteering with the Rodeo Committee, he was director of human resources at the Arizona-Sonoran Desert Museum.
In 1996, after 71 years, the Tucson Rodeo Committee hired Mr. Williams as its first paid employee and its first general manager. As GM he is responsible for the overall everyday operations that include securing sponsors, enlisting cowboy athletes to participate, and putting on the biggest sporting event in all of Southern Arizona. While responsible for taking the rodeo forward into the 21st century, Williams was true to its historical roots and respects the traditions that it has had for more than three-quarters of a century.
---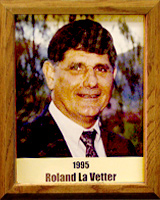 Pima County Sports Hall of Famer Roland LaVetter died on October 1, 2022
LaVetter was inducted into the Pima County Sports Hall of Fame with the Class of 1995.
A native Tucsonan, LaVetter was educated entirely in TUSD schools, including Sam Hughes Elementary, Mansfeld Jr. High, and Tucson High, and completed the circle at the University of Arizona where he obtained his B.A. and Master's degrees.
LaVetter served for 28 years as a social studies teacher for students from the 9th through 12th grades at Pueblo, Rincon and Catalina high schools. A parallel to his teaching career was serving as senior class and student council advisor and athletic administrator.
LaVetter's basketball teams at Pueblo and Rincon won five league titles, and four divisional, and back-to-back state championships in 1977 and 1978. The 1978 team was ranked No. 1 in the Southwest and No. 4 in the United States.
LaVetter's accomplishments included being named Basketball Coach of the Year by the Tucson Citizen, Arizona Daily Star, Arizona Republic, and Phoenix Gazette. He received the Tucson Conquistadores' Achievement Award and was selected to coach the South All-Stars. His 1978 Warriors' were honored as the High School Basketball Team of the Century by the Arizona Daily Star.
---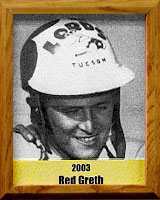 Pima County Sports Hall of Famer Gary "Red" Greth died on April 13, 2021.
Gary "Red" Greth was well known in Tucson as a drag racer. Greth was born in 1934 on a farm in Centerville, Ohio. At 14, he moved to Tucson with his family where he graduated from Tucson High School and began his business career. Working after school at Miller Rasor Radio and Speedometer, Greth became acquainted with fellow employees Hank Arnold and Roger McCluskey, two local circle-track heroes. They introduced Greth to the world of high-performance automobiles. In time, Greth began to work as a crew member for Indy Car drivers and fellow Pima County Sports Hall of Famers McCluskey (2002) and Bill Cheesbourg (1998). He was part of 17 Indy 500 races. At 16, Greth began competing in organized drag races in the Phoenix area since Tucson did not have a facility. He did, however, participate in street racing held at the Mount Lemmon "cut off", a straight stretch northeast of Tucson which included a built "start" and "finish" line between two cattle guards. Eventually, Greth began building and driving winning "drag" cars while in high school and joined the best-known car club in town, the Lords of Tucson, and raced in a variety of cars from dragsters to roadsters to funny cars. Greth became a member of the famed "Speed Sport" Racing Team, where he developed a roadster that in 1957, he drove 169.11 MPH, a speed unequaled by any drag machine to that date. In 1994, that Speed Sport Team, and the car, were inducted into the International Drag Racing Hall of Fame.
Fellow Pima County Sports of Famer and Arizona Daily Star columnist Greg Hansen (2004): Red Greth had a heart of gold. He will be missed.
"I got to know Red when we were both on the selection committee," said Pima County Sports Hall of Fame President Pat Darcy. "Red was a really good guy."
---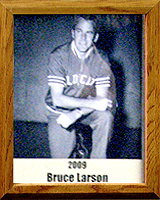 Pima County Sports Hall of Famer Bruce Larson died on April 14, 2021 at the age of 94.
Bruce Larson was head basketball coach at the University of Arizona from 1961-72 and before that was an assistant coach under Fred Enke at Arizona for two seasons.
Prior to coming to Tucson, Larson was basketball coach at Eastern Arizona College (1951-57) and took his team to the Junior College national tournament four times, finishing second in 1957. At EAC, he also was head baseball coach, assistant football coach and athletic director.
After EAC, Larson went to Weber State College in Utah and coached the basketball team to a runner-up finish in the 1958 Junior College tournament and a national championship in 1959, earning National Coach of the Year honors.
Larson also coached the Sonoran basketball team, finishing tied for first in 1977 and fifth in Mexico's national tournament. His overall record as basketball coach was 310-225.
After retiring as basketball coach, Larson worked as a television analyst for University of Arizona basketball and football games beside fellow Pima County Sports Hall of Famer's Dave Sitton and Bill Roemer.
"Bruce Larson was as decent a human being as I have ever met let alone worked with," said broadcast partner Roemer.
"Coach Larson became the head coach at the UofA in 1961 which played in the old Western Athletic Conference," remembered Pat Darcy, President of Pima County Sports Hall of Fame. "His team played in Bear Down Gym which was small and obsolete and tough on recruiting. In 1966 the Wildcats, under Bruce's leadership, almost beat Texas Western (27-1) the year the Miners won the National Championship."
Larson was inducted into the Pima County Sports Hall of Fame in 2009 with a class that included fellow UA Basketball Head Coach Fred Snowden.
Larson was inducted into the UA Athletic Hall of Fame in 1972 and the Junior College Hall of Fame in 1989.
Larson, a WWII veteran, lived in Tucson since 1959.
---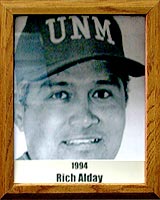 Rich Alday, from the class of 1994, died on January 6, 2021. Alday was a stand out athlete, playing both baseball and football at Tucson High School. He was named All-City and All-State quarterback on the 1965 State Championship Badger team.
Alday went on to play baseball at Emporia State College in Kansas where hew was named All-City and All-State catcher and received an All American honorable mention during the 1969-70 season. In 2000, Alday was inducted in the Emporia State University Hornets Hall of Fame.
Alday played one season for the Washington Senators A Ball team in Geneva. NY and was assistant coach for Team USA, winning the baseball Olympic gold medal in 1998.
Alday is perhaps best well known among Tucsonans as the accomplished baseball coach at Pima Community College. Alday was the first baseball coach for the Aztecs where he stayed from 1974 to 1989. Alday returned as the head coach in 2018 winning his 500th career win for the Aztecs. Alday finished with a record of 517-251 at Pima and was named into the Pima Athletics Hall of Fame in 2013.
While at Pima, Alday's teams won five Arizona Junior College Athletic Conference championships and made three appearances in the NJCAA World Series. Pima's World Series appearances, under Alday, were in 1981, 1983 and 1985. In 1985, Pima made it to the NJCAA championship game. Alday was named All-Region Coach of the Year in 1981, 1983 and 1985.
Alday was the baseball coach at New Mexico from 1990 to 2007 where he racked up 515 victories for the Lobos. Alday is the winningest baseball coach in University of New Mexico History. Alday finished with a total of 1,032 wins in his collegiate career.
Alday also coached the Ironwood Ridge High School softball team from 2014 to 2017 where he finished with a record of 107-33 while winning the 2014 and 2016 Arizona State Championships.
---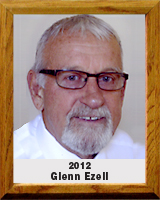 Glenn Ezell, class of 2012 died on November 9, 2020. Ezell was a coach and front-office executive in Major League Baseball, as well as minor league catcher and manager.
Ezell graduated from Amphitheater High School in 1962 where he lettered in three sports – baseball (4), football (3) and basketball (2). He was all-city two years as a catcher.
Ezell Spent two seasons at Arizona Western College, playing baseball and football and was honored as the National Junior College Athletic Association All-American first-team catcher in 1966.
"Ezell was born in Kentwood, Louisiana, and had a professional career as a catcher in the New York Mets, Minnesota Twins, San Francisco Giants and San Diego Padres organizations (1966–74; 1977).
Ezell worked for 12 seasons as a coach in the Major Leagues, with the Texas Rangers (1983–85), Kansas City Royals (1989–94), Detroit Tigers (1996), and Tampa Bay Devil Rays (2001–02).
Ezell managed in the farm systems of the Pittsburgh Pirates, Padres, Toronto Blue Jays, Oakland Athletics, Royals and Tigers for all or parts of 13 seasons between 1975 and 2000.
In the late 1990s, Ezell was a roving catching instructor in the Detroit farm system. After his stint as an MLB coach with the Devil Rays, he rejoined the Tigers as field coordinator of instruction in 2003 and was promoted to player development director in 2006.
Ezell batted .268 with 23 home runs in 661 minor league games."1 He caught for the Durham Bulls, of movie fame, their Carolina League championship season (1967).
1-https://en.wikipedia.org/wiki/Glenn_Ezell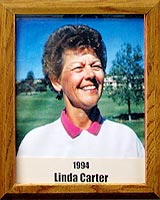 Linda Carter, Class of 1994, died on November 15, 2020. Born in Niskayuna, New York, Carter was a seven-time women's club champion at her hometown course at Mohawk Golf Club winning her first title at the age of 14.
Carter qualified for and competed in the 1961 Women's U.S. Open at Baltusrol Golf Club (Springfield, New Jersey.)
Carter moved to Tucson to attend the University of Arizona where she earned a Bachelor of Science degree in 1964 and a Master of Public Administration degree in 1969. Carter was the third female Tucson police officer/detective.
In 1986, Carter was the Arizona Women's Golf Association state champion and Player of the Year (S.W. Section PGA) and Women's Player of the Year. Linda won the Women's SW Golf Tournament in '79, '89 and '91.
Carter won the Tucson city golf championship 12 times. She was president of the City of Tucson's Women's Golf Association.
Carter taught many of Tucson's best junior golfers, and many went on to distinguished golf careers. She also found time to mentor junior golfers in the White Mountains. She was the first female recipient of the Tucson Conquistadors Sports Award in 1982.
Carter was one of the original organizers of the Walter Hagen Golf Tournament (American Cancer Society) and the Arizona Kidney Foundation Golf and Tennis Tournament.
Carter was the Head Scorer for the Tucson Open (PGA & LPGA).
Carter was a big part of the Pima County Sports Hall of Fame taking on the task of ticket sales and planning for the annual induction ceremony banquet.
The last golf shot Carter hit was a chip-in birdie at Oro Valley Country Club.
Information partially from: https://www.legacy.com/us/obituaries/tucson/name/linda-carter-obituary?pid=197138034
---
The Pima County Sports Hall of Fame recently lost two of its indelible members.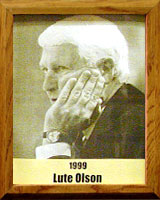 Lute Olson, from the class of 1999, died August 27, 2020. Olson was the head basketball coach at the University of Arizona for a quarter of a century with a stellar career that included winning the national championship in the 1996-97 season. Beloved by Tucsonans, Olson coached 31 players who went on to play in the National Basketball Association including Pima County Sports Hall of Famers Sean Elliotand Steve Kerr.Olson's many accolades include being named national Coach of the Year five times and Pac-10 Coach of the Year seven times. He led the Wildcats to four NCAA Final Four appearances. Olson was inducted into both the Naismith Memorial Basketball Hall of Fame (2002) and the National Collegiate Basketball Hall of Fame (2006)."I first met Coach Olson back in the 1990's when he a guest on my One on One Sports Radio Show on KTKT," said Pima County Sports Hall of Fame President Pat Darcy. "He was on my show quite often and I don't remember him ever turning down a request. I'm sure some Wildcat fans didn't realize that Coach Olson started out coaching high school basketball. He once told me on one of my shows coaching high school made him a better coach. Back then there were no magnet schools and kids attended high schools according to the boundaries in which they lived. So, when school was over for summer, Coach Olson never knew which kids were moving into or out of his area. So, he had to wait until basketball practice started before he could judge the players' talent and build the team around their strengths."
---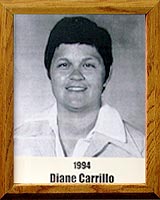 Diane Carrillo who was inducted into the Pima County Sports Hall of Fame in 1994 died August 28, 2020. As a student athlete Carrillo excelled in softball, volleyball, golf and bowling. She graduated from Tucson High School and the University of Arizona. She went on to be an educator and coach influencing many young athletes. She coached at Wakefield Junior High School for ten years where her volleyball teams earned 92 wins with two perfect seasons and four city championships. She was a long-time TUSD principal and was named the 1991 National Principal of the Year by the National Association of Elementary School Principals. Carrillo served as Director of the ASA National Softball Tournament and Director of the International Bike Race (Arizona/Sonora). She was the 1994-96 Pima County Sports Authority Chairperson."Diane was a dedicated and accomplished coach and educator who had a positive influence on many young athletes in Pima County," said Darcy.
---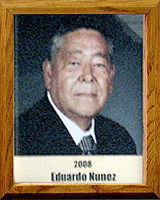 Eduardo Nuñez, Pima County Sports Hall of Famer from the class of 2008, passed away on Sunday, August 2, 2020.
Nuñez was the boys' tennis coach at Pueblo High School from 1965 to 1979 with teams that regularly reached the divisional and state tournaments. The tennis courts at Pueblo High School are named in his honor.
Nuñez received a bachelor's degree and masters of education from the University of Arizona. As assistant principal of activities at Pueblo and Rincon High Schools from 1987-2000 he supervised all athletic activities on both campuses.
"In all my years as Master of Ceremonies and President of the PCSHF, Ed had one of the best 'life stories,'" said Pat Darcy. "As a freshman at Pueblo High School, Ed basically started the boys' tennis team and later after graduating from the U of A came back to Pueblo and became the boys' tennis head coach. My respect for Ed grew each time I saw him at Calle Tepa Restaurant having lunch with some of his former tennis players."
The Pima County Sports Hall of Fame will be making a contribution to the Eduardo Nuñez Scholarship Fund at the Educational Enrichment Foundation. If you too would like to make a contribution please make checks payable to EEF/Eduardo Nuñez Scholarship and send to Educational Enrichment Foundation at 5049 E. Broadway Blvd., Suite 107, Tucson, AZ 84711.
---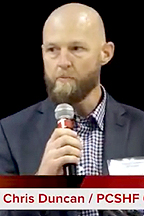 Chris Duncan passed away on September 6, 2019 after a long battle with brain cancer. He was 38.
Duncan was inducted into the Pima County Sports Hall of Fame along with his brother Shelley with the class of 2017.
Duncan was drafted by the St. Louis Cardinals in the first round (46th overall) in the 1999 Major League Baseball draft. After seven seasons in the Cardinals' farm system, including the Triple-A Memphis Redbirds, Duncan made his debut with St. Louis on September 10, 2005. On October 2, 2005, he became the last player to hit a home run at Busch Memorial Stadium during the regular season.
Duncan played for five seasons with the Cardinals hitting 22 home runs on the team that won the World Series in 2006. In 2006 he was named the team's rookie of the year.
After his baseball career Duncan became a popular radio host.
Duncan is a graduate of Canyon Del Oro High School where he was a standout in both baseball and football. In Chris Duncan's baseball career he has won 4 Championships: 1997 AZ State Championship, 2002 Midwest League championship, 2004 Southern League Championship and the 2006 World Series Championship.
---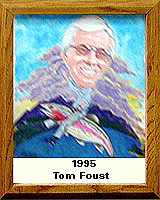 Tom Foust, Pima County Sports Hall of Fame class of 1995, passed away on May 28, 2019. Tom began his sports writing career in 1952 as a 17-yr old junior at Tucson High School. He was one of the two original correspondents hired by the Arizona Daily Star to help with high school sports coverage. The Star hired him fulltime in 1953 after he graduated from THS. As a writer, photographer, and editor, Tom reported on all aspects of sports in the community from high school to the University of Arizona; from professional golf and bowling to rodeo; from Cleveland Indians Spring Training to the old Tucson Cowboys of the Arizona-Texas League. He served as sports editor between 1970 and 1978 and returned to the Sports Department in 1986 after a stint as Community Affairs Editor.
Click HERE to see the article in the Arizona Daily Star.
---

Albert George Sye III, co-founder and past president of the Pima County Sports Hall of Fame, passed away on March 26, 2018. Sye, a transfer from Gloucester County College, compiled a 58-9 record while wrestling at the University of Arizona which included Western Athletic Conference Championships in 1972 and 1973. Sye was a member of the USA Wrestling Team when they competed against the Mongolian World team in 1975.
A memorial service for Sye will be held at the University of Arizona Student Union, in the Santa Rita Banquet Room, 1303 E University Blvd. in Tucson on Saturday, May 26th, 2018 from 11:00 AM to 3:00 PM.
Click HERE to read Al Sye's obituary at OakPark.com