Patsy Lee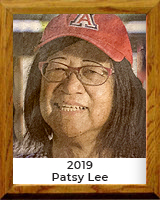 Patsy Lee was the first female to coach a boys high school team in Tucson history. She was hired in the late 1980s to coach the Tucson High boys freshman basketball team. She did so well, and her reputation grew to such an extreme that when Palo Verde played in the boys 2000 state championship basketball game, Lee was David Gin's assistant coach.
After Lee's first 10 years of coaching, Charlie Cook, a former all-state basketball player at THS, asked her to coach the boys freshman team during a period that the Badgers turned out such notable players as Sean Harris and future college players Eric Langford and Val Hill. "As long as you know basketball, they won't care," Cook said. "They'll follow you." And so they did.
The great-granddaughter of a Chinese immigrant to Tucson, Patsy Lee has touched virtually every level and type of sport in Tucson. After retiring from TUSD, she became part of the LPGA Girls Golf of Tucson program, helping girls ages 7-17 learn the game. She also volunteers for the First Tee of Tucson, and there's no way the young women she helps to hit a golf ball understand what she means to Tucson's sports community.
"She's the most giving person I've known," said Todd Mayfield, the head football and track coach at Tucson and Palo Verde high schools for almost three decades. "She's always taken care of everybody else's kids. She even did our stats and our film stuff. If you wanted to get things done, you called Patsy."
Patsy's older sister and brother got straight A's. Her aunts were school teachers. Patsy didn't want any of that, anything that didn't include a ball or a bat. "I was a jock," she said, the 1960s term for ballplayers. "I grew up in the streets by the El Rio Golf Course playing softball and baseball. First base was a mailbox. Second base was a hubcap. I think my mom looked at me as a troublemaker because I was always at the YWCA, playing this, playing that."
Over four decades, Patsy Lee was the head coach of Pima College's softball team, the girls track coach at Tucson High, the boys volleyball coach at Palo Verde High School and an assistant coach of so many sports at so many places that even she has difficulty putting them in order. She worked for some of the top names in Tucson sports history, from Gerry Lybeck, Will Kreamer, Tim DeMarchi and CeCe Hall to Mayfield, Cook and Gin. She counts as her mentor Mary Hines, the legendary state championship volleyball coach at Catalina. She has worked coaching clinics for Hall of Fame softball coaches such as Mike Candrea.
If you ask Lee about her playing days — the period that prepared her for a 40-year coaching career — she is all modesty. "When I began high school, the only girls sports offered were tennis and gymnastics," she said. "So I went out for the tennis team and got cut. I moped around the gym until I found out there was a girls volleyball program on Saturdays. Believe me, I never left the gym after that." After enrolling at the UA, Lee became a mainstay on the Wildcat volleyball, softball and basketball teams. Upon graduation, she indeed found out that someone would pay you to play.